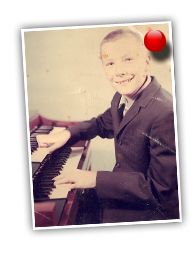 The King-o-Keys has unfinished business to attend to...unfinished business that dates back to the 1970's and a band named Horace Monster and their brush with being 'almost famous'.

But let's start at the real beginning.  Back in the 1960's Eldon took music lessons learning to play the organ.  Like most kids he didn't practice much, and in music competitions participation ribbons  where his prize.  Then the British Invasion hit and after hearing The Dave Clark Five, he fell in love with Rock n' Roll and never looked back.  He discovered the roots of the British Invasion which were Chicago Blues and 1950's Rock n' Roll and wanted to learn how to play like Otis Spann and Jerry Lee Lewis.

He practiced tirelessly, studied classical piano and played in numerous local bands in high school and through college.  A high school band-mate, Rob Harding approached Eldon to join Horace Monster led by H. William Prewitt in 1971.

Horace Monster
From 1971 through 1978 Horace Monster played across the United States and Canada as a featured act and as an opening act for Cheap Trick and 38 Special.  Horace Monster was a hard working band performing in excess of 250 shows a year.  The band was known for catchy original songs, dueling double neck guitars, and outrageous showmanship.
 
Horace Monster – Rock and Roll Money
Horace Monster was an almost grabbed the brass ring.  Touring from 1971 through 1979 Horace Monster played across the US and Canada working hard to build a fan base.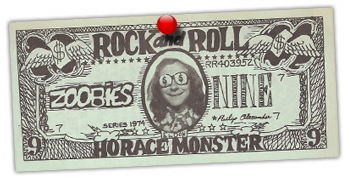 Performing 50% original material and 50% cover songs, Horace Monster was voted best rock act by the Chicago Reader in 1975.  The band worked tirelessly on new songs in the hopes of landing a recording contract.

Between 1976 and 1977 Horace Monster caught the attention of recording engineer Bruce Swedien, who would later win Grammy Awards with Michael Jackson and Quincy Jones, and Lou Reizner, the European Record Executive who had produced Rod Stewart.  The band began recording demos with Swedien and Reizner at Universal Recording Corporation located at 46 E Walton in Chicago.  Unfortunately, Mr. Reizner passed away in 1977 and with his death the project ended.

The band lost heart and momentum; they struggled with identity, personnel changes, managerial changes until finally breaking up in 1979.
Between 1979 and 2005 Eldon dropped out of sight in the music industry.  In 2005 Eldon reemerged with two local area bands: The Squares and Woody and the Wildcats.  In 2011 Eldon decided to focus on songwriting and became the King-o-Keys.  The King-o-Keys & His Smokin' Aces released their debut 5-song EP, On The Rocks.  As a solo artist Eldon Has released two songs, Christmas Sugar Daddy and I heard This Wind.  
Click Here
for Christmas Sugar Daddy and
Here
for I Heard This Wind.